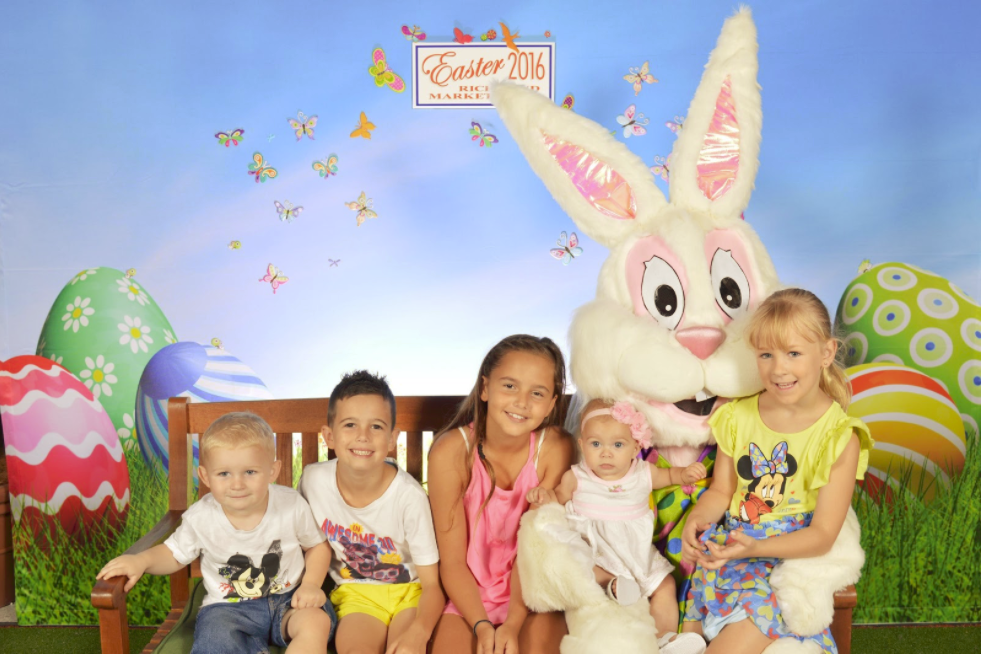 Lasting Memories Photography will start taking photos on: Wednesday 3rd April 2019. We will work every day until Thursday 18th April 2019.
Photos taken on or after Tues 16th April will incur a $5 postage fee (Photos will be posted straight after Easter) or A USB of all images can be purchased for $55 (Pick up same day).
BUNNY has 15min breaks at the end of each hour, everyday. 
Mon / Tue/ Wed/ Fri

10am to 4pm
lunch break 12:45pm to 1:15pm

Thursday
10am to 5pm
lunch break 12:45pm to 1:15pm
Saturday
10am to 4pm
lunch break 12:45pm to 1:15pm
Sunday
10am to 3pm
lunch break  12:45pm to 1:15pm
*Times are subject to change.
Photo Packages
---
Packages
Quantity
Presentation Folders
Amount
A
1 – 5″x7″ Photo
1
$25.00
B
3 – 5″x7″ Photos
1
$30.00
C
3 – 5″x7″ Photos + keyring + magnet
1
$45.00
D
6 – 5″x7″ Photos
2
$35.00
E
6 – 5"x7" Photos + keyring + magnet
2
$55.00
F
9 – 5"x7" Photos
3
$40.00
G
3 – 5″x7″ Photos + 2 keyrings + magnet
+ 4 wallets
1
$60.00
H
8gb USB (all photos taken, Unedited)
 
$55.00
I
Bring back Lasting Memories USB
 
$45.00
Combined Families
1 print per $10 (with printed packages only). All photos put on USBs (when purchasing USB ONLY).
 
$10 per family
Extra Pose with Bunny
$10 each pose
(Only with USB purchase)
 
$10 per pose
Extra Pose without Bunny
$15 each pose
(Only with USB purchase)
 
$15 per pose
*USBs consist of 2 poses with the bunny only (unless extra poses are purchased).
*All photos on USBs are unedited.
Photo Accessories
---
USB (with Packages B – G only) – $25.00
Wallet Sheet (4 Photos) – $8.00
Keyring (with photo) – $8.00
Keyring (blank) – $6.00
Photo Magnet (with photo) – $10.00
Photo Magnet (blank) – $6.00
Easter Photo Mug – $25.00
Easter Mouse pad – $20.00
Easter Stubby Holder – $20.00

*Photo accessories can only be purchased with photo packages.
Virtual Queue

---

Richmond Marketplace will use The Virtual Queuing System when busy.
To Join the virtual queue, you must attend the Easter Bunny set at Richmond Marketplace.
You need to enter your details onto the iPad, and you may go shopping.
You will receive a text message giving you an approximate wait time.
You will have the option to check wait time or leave the queue via a text message.
When it is close to your turn, you will receive a text message telling you to return to the Bunny set.
Terms & Conditions
---
Arrive On Time
Please return to the bunny set as soon as you receive your text message or please send the letter L to the text to leave the queue. If you do not return within 10 minutes you will be sent another text. If you are not back within 5 minutes of the second text you will be removed from the queue. 
Combined Families
If you would like a combined family photo, you will be required to pay $10 per family.
$10 per family includes 2 poses of the family, put onto each family usb or 1 5 x 7 for every $10 paid if purchasing prints.
Extra Poses
Each family receives 2 poses when purchasing USBs (not always possible when children are scared). If additional poses are requested, an extra $10 per pose will be charged (applies only to immediate family, i.e. mum, dad, kids and grandparents).
CUSTOMERS PURCHASING PRINTS, PLEASE REQUEST DIFFERENT POSES AT TIME OF ORDERING or photos will be the same (Can only print in sets of 3, must order min 6 photos to get different poses).
Payment Methods Accepted (Shopping Centres)
We only accept cash as unfortunately, we do not have credit card or EFTPOS facilities.
Receiving Your Photos
If you purchase a USB, you will be able to take all your unedited photos home on the day of the photo shoot. If you order prints, they will be available  for pick up 3 to 4 days after they are taken.
Please Be Patient
Please note, that while we make every effort to stick to the schedule, our booking system is not intended to eliminate wait times but to minimise them. We also ask you to be patient as this is the first year that we are using an online booking system and we are all learning. We welcome any feedback you may have.