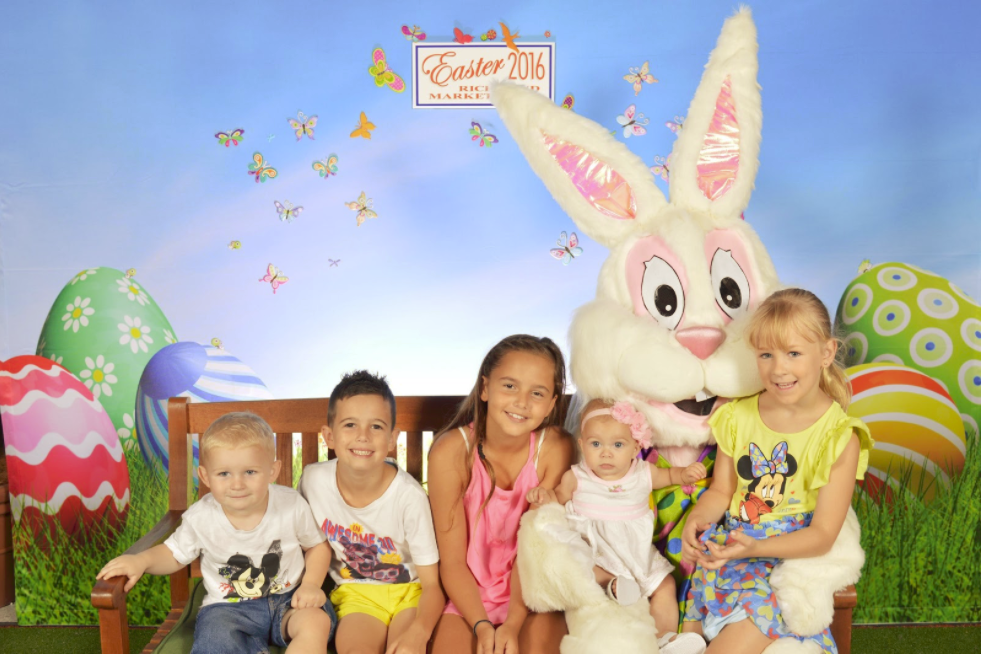 BOOKING CALENDAR – select date and time below
---
Booking Essential.
 $26.50 deposit is required at time of booking. $25 will be deducted from your package price.
PLEASE NOTE: WE WILL OPEN THURSDAY 18TH APRIL IF THE 20TH BOOKS OUT. IF WE DO NOT GET ENOUGH BOOKING FOR THE EASTER BUNNY TO GO AHEAD, YOU WILL BE FULLY REFUNDED.
Photography Session: 10 minutes per family
If having a combined family photo, you do not need to book an extra spot. 
*USBs ONLY, NO PRINTS
All USBs will consist of 2 poses with bunny, plus 1 portrait without bunny (not always possible if children are scared).
Photo Packages
---
Packages
Quantity
 Prices
 
A
8gb USB
(all photos taken, unedited)
 $80
 
B
Bring back Lasting Memories USB
 $65
 
Combined Families
All photos put onto USB
 $10 per family
 
Extra Pose with Bunny
 
 $10 per pose
 
Extra Pose without Bunny
 
$15 per pose
 
Photo Accessories
---
Keyring (blank) – $6
Photo Magnet (blank) – $6
Easter Photo Mug – $25
Easter Mousepad – $20
Easter Stubby Holder – $20
*Photo Accessories can only be purchased with photo packages.

Terms and Conditions
---

Arrive On Time
We kindly ask that you aim to be at the studio 10 minutes before your session. If you have not arrived by your allocated time slot, your time slot may be given to the next person in line. Please provide proof of your booking on arrival to help minimise wait time.
Payment Methods Accepted
All our locations accept CASH ONLY, to be paid on the day of your photo session.  Unfortunately, we do not have EFTPOS/ATM OR CREDIT CARD FACILITIES available. The Hideaways deposits are processed online and all balances are to be paid in Cash at the time of your appointment.
Receiving Your Photos
Hideaway -You will be able to take all your unedited photos home on USB on the day of you photo shoot (approx. 10 mins). 
Cancellation Policy
If you fail to attend and don't give 48 hours of cancellation notice, you will forfeit your $25 booking deposit.
Please Be Patient
Hideaway – Please note, that while we make every effort to stick to the schedule, our booking system is not intended to eliminate wait times but to minimise them, expected wait time is up to 30 minutes. We have created a comfortable waiting area with toys and refreshment as well as pram and wheelchair access. We also ask you to be patient as we are all still learning. We welcome any feedback you may have.