Santa Photos 2021 at The Hideaway
At Santa's Hideaway Bringelly 2021, we are excited to bring you a private photography studio experience with 4 different Christmas backgrounds. It is a studio set up, with a private photo session with Santa and your family. You receive 3 poses with Santa and a portrait without Santa. All photos with Santa are taken in the Santa room.
And for your family/children photos without Santa, you get to choose 1 backdrop out of 3. This year, we have the grey Snow room (families and children), the Sleigh room (Santa can have a photo here) and the Fireplace (children only). If you would like extra backdrops it will be an additional $10 per backdrop. However this can only occur if children are cooperative as we only have approximately 10 minutes from start to finish)
You will receive all photos taken on a USB on the day of photography. Returning customers pay $80 (must bring Lasting Memories USB), new customers pay $100.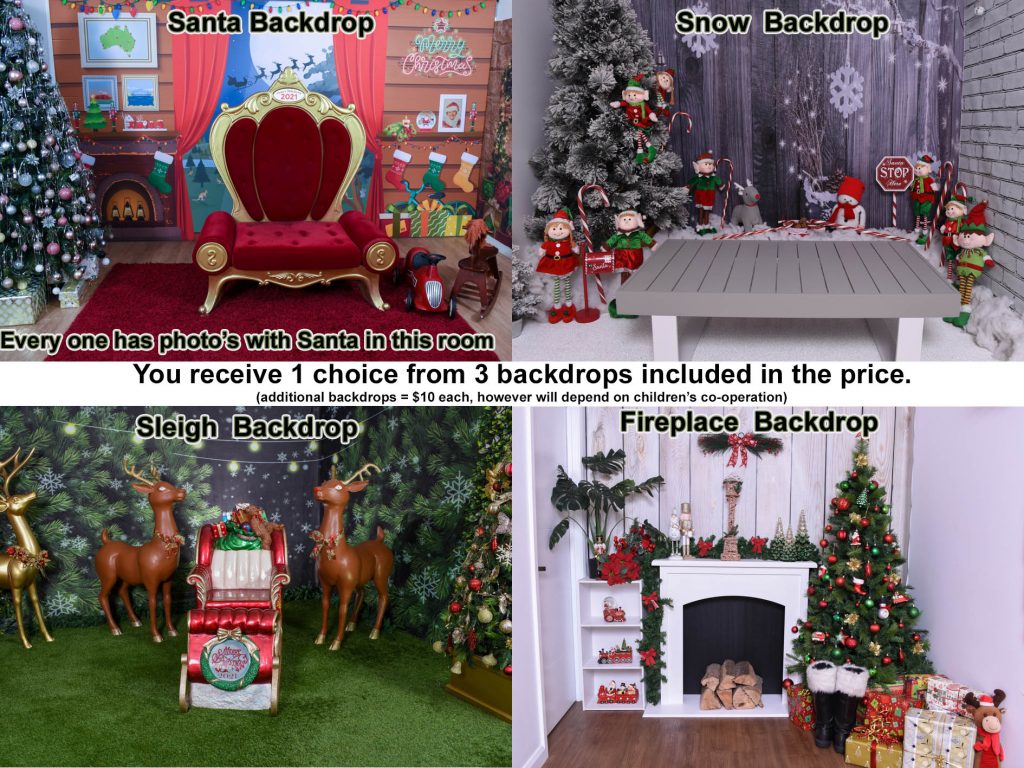 Santa Calendar Opening Dates 2021
Dates to Remember
Bookings for October open 11th October
Bookings for November open 25th October
Bookings for December open 22nd November
Pet Photo's – 29th & 31st of Oct, 6th & 14th of Nov, 5pm to 8pm
Sensitive Santa Photos – 27th & 28th Nov, 4th, 5th & 12th Dec
Santa Photo Prices & Options
USB's Only Pick up after photo shoot
*$25 deducted from USB as already paid when making booking.
Lasting Memories USB = $80
New Lasting Memories USB = $100
Optional Editing
Additional $30 to have all photos edited and emailed to you in 3 days. (Colour balanced, sharpened, cropped, black and white)
You will take your unedited photo's home on the day, and will receive your edited photo's via email 3 to 4 days after your photo shoot.
Due to covid-19 (coronavirus), the safety, health and well being of our Santa's, staff and customers is our highest priority. We have created a covid safe plan in line with the governments health department rules and regulations (which last year worked perfectly), and have come to the conclusion at this stage that we will only be taking Santa Photos at Santa's Hideaway Bringelly. Due to the NSW health guidelines we can only accept fully vaccinated adults into the studio in October and November. In December everyone is welcome.
We need to ensure everyone's safety, and as we know from Christmas 2020, the Hideaway will be the safest option as we can keep on top of cleaning, social distancing, the interaction between Santa and the children, appropriate mask wearing and photographing one family at a time. You will be required to wait in your car until invited in via text message.
Due to covid and social distancing we can not sit children on Santa's lap or next to him on his throne, though with our experience and imagination, we will still be able to provide you with the awesome Santa photos that you are accustomed to.
Masks will be compulsory for everyone over the age of 12, However the masks can be removed to take a photo, but must be put back on when photo's are not being taken.
To all our Richmond Marketplace customers, we apologize as we will not be taking Santa photo's at Richmond this year, so we hope to see you at Santa's Hideaway.
If all goes well with Christmas 2022 we will definitely be back at Richmond Marketplace. To all our Glenmore Park Town Centre customers, we
apologize as we will not be returning to Glenmore Park, but hope to see
you at Santa's Hideaway.
Lasting Memories Photography
Photos taken in the comfort of your home, at a location of your choice or in our fabulous studio at Bringelly. We also specialise in Santa and Easter Bunny photos. Our Santa and Easter photo's are by appointment only, at Richmond Marketplace and Bringelly